Assassin's Creed II is the product of over two years of intensive development by the original creative team behind the Assassin's Creed brand. In a vast open world environment, the game invites players to incarnate Ezio, a privileged young noble in Renaissance Italy who's been betrayed by the rival ruling families of Italy.
Today we bring you the details regarding the special limited edition announced by Ubisoft.
What:Ubisoft and GameStop Announce Assassin's Creed(r) II Limited Edition: Master Assassin's Edition - available exclusively at U.S. GameStop locations and at Gamestop.com - Buy PS3, PS2, PSP, Wii, DS, Xbox 360, Used, PC Games and Consoles
When: November 17, 2009
Details:
Available for PS3 and Xbox 360
Ezio collectable statue (8.5 inches tall)
Two exclusive in-game maps:
Palazzo Medici - Pre-Order UnlockableMap
Santa Maria Dei Frari - Limited Edition Exclusive
The Art of Assassin's Creed II hard-covered art book
Additional Bonus Disc includes:
Behind the scenes of Assassin's Creed II
Assassin's Creed II soundtrack
And more
Premium Collectable Tin
The Master Assassin's Edition is now available for pre-order at GameStop. Quantities are limited.
Click Image To See It Larger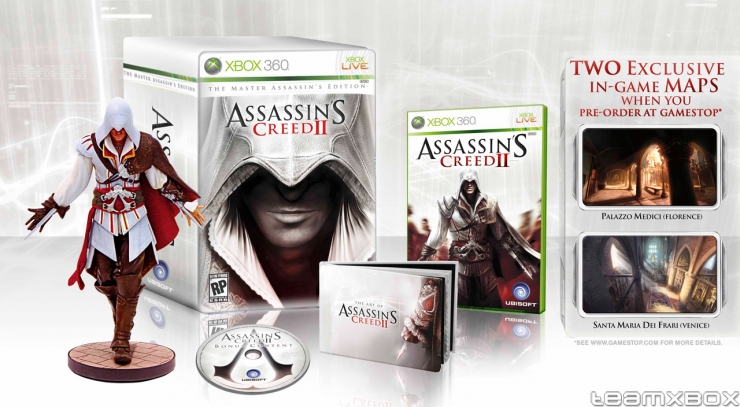 Price: $79.99 MSRP
Web site:
Gamestop.com