in anticipation for the upcoming release of DJ Hero, Activision has unveiled a new bundled variation of the game and its custom turntable peripheral. Dubbed the Renegade Edition, the new bundle will include a premium Renegade turntable controller, which will feature a custom black finish and premium metal controls. The specialized controller will also come with its own custom hardshell carrying case. But beyond simply providing a handy way to take your turntable controller on the go, the Renegade Edition carrying case converts into a "performance-ready" DJ stand, which incorporates extendable legs that eliminate the need for additional furniture.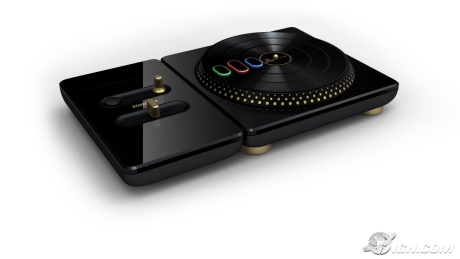 To sweeten the deal, Activision is offering a 2-CD pack with the new bundle, which will feature previously unreleased tracks from Jay-Z and Eminem and will come in its own collectible case designed by Shepard Fairey, the artist behind President Obama's iconic "Hope" poster.
Pricing and availability have not yet been announced for the Renegade Edition of DJ Hero, but for all the latest information as it becomes available, stay tuned to IGN.